Home
Welcome to the 63th Annual
Junior Daffodil Parade on April 20, 2023 at 10:00 A.M.
New Registration Location
Registration has moved from the Parlors off the main entrance of Mason Church on Madison St to the back door off the back parking lot on Monroe St do to the Proctor Farmers market needing the use of and blocking the intersection of 27th and Madison. The easiest route to the back side of Mason Church is to turn north on to Monroe from 26th St N. Signs will direct you into the lot. Registration / sign in starts at 9:00 am. We need all groups signed in by 9:30 am. The Parade starts at 10:00. What we need is for just the person that registered your group to stop in and sign in your group, pick up the participation buttons for the Kiddo's in your group and if you ordered daffodils they can pick them up at this time. The rest of your group needs to go to the staging area.
Group Staging
All groups this year will stage on the soccer field at Mason Middle School. For those parents needing to drop off participants, you can drive through the middle parking lot at Mason School between the gym and the field. The entrance is on 28th St just east of Monroe St. Volunteers will be directing traffic through the drop area. Unfortunately there is NO Parking in this lot for parade participants. You will need to find parking somewhere on the streets around Mason field.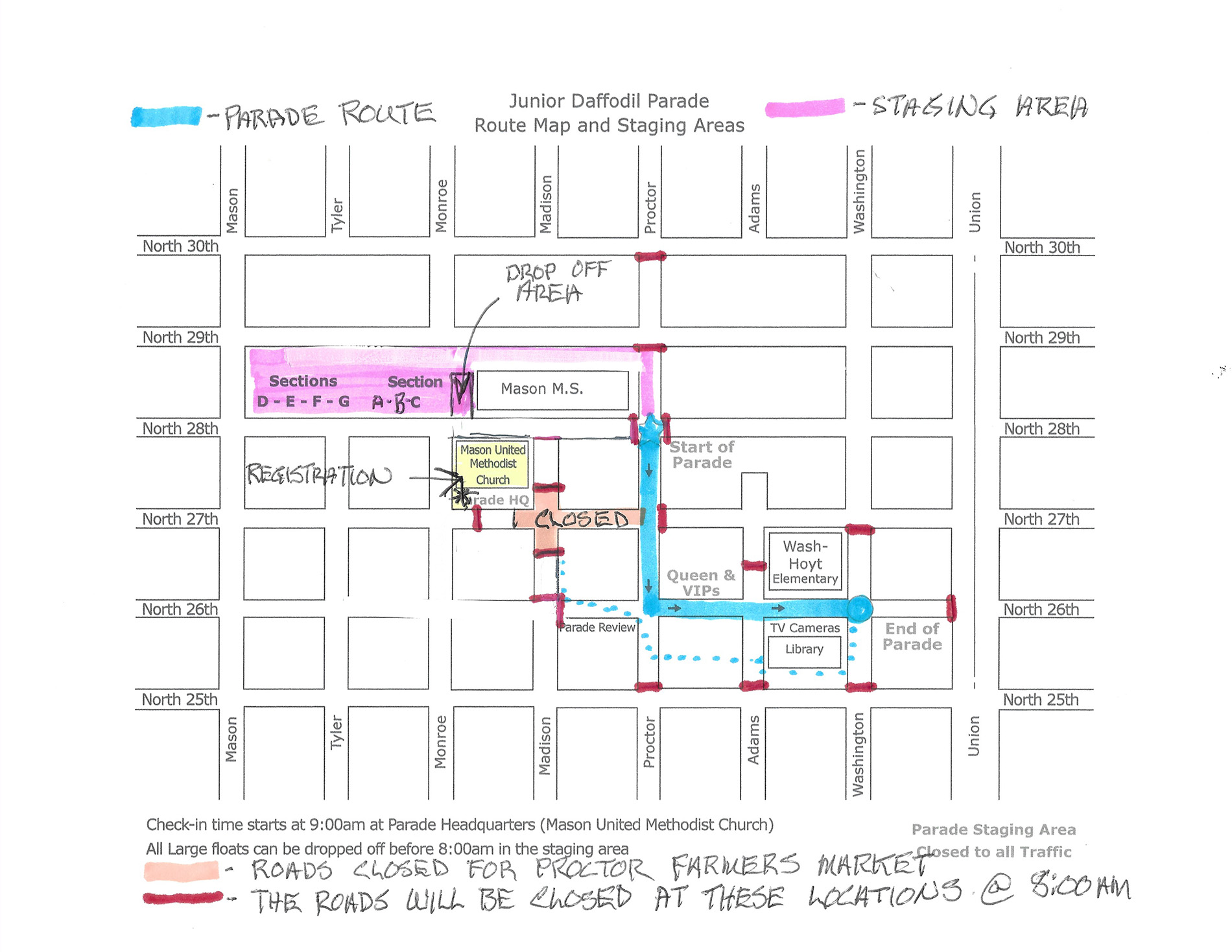 Registration for the 2023 parade is now open!
[booked-calendar]
[formidable id="2″]
[formidable id="2″]
[formidable id="2″]
Watch coverage of the Junior Daffodil Parade on TV Tacoma.
TV Tacoma is carried on both the Rainier Connect and Comcast Cable systems

On Rainier Connect, TV Tacoma is available via Cable TV on Channel 512 in High Definition and on Channel 12 in Standard definition within the Tacoma City limits and in Pierce County.  In the City of University Place our Standard Definition Channel is 21.   TV Tacoma is also available on Ch. 12 with Rainier Connect's StreamTV Service.

On Comcast, TV Tacoma can be seen in High Definition on Channel 321 in Tacoma and Pierce County.  Our Standard Definition Channel is 12 within the Tacoma City limits and
Channel 21 in Pierce County. TV Tacoma is not available on the Comcast system in University Place.
To the Junior Daffodil Parade Committee,
Thank-you for all of your hard work and energy for making this years Parade possible and thank-you for letting TV Tacoma play a small part in it.
Replay times:
TBA
Sunday, April 30 – 3PM